The Future of Control Rooms & Mission-Critical Environments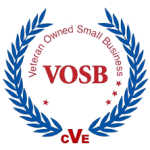 Serving network operation centers, industrial process control, power & utility control rooms, to military command and control centers and beyond, our control room design consultants understand the crucial need to support your people, processes and technology. Fountainhead Control Rooms has been leading the industry with contemporary custom-configured control room designs and comprehensive turn-key solutions supported by years of industry experience and a unique methodology that allows our team to develop a purpose-built space for our clients. True work-flow and operational requirements are met, while ergonomic and human factor design solutions create a comfortable environment that can operate at peak performance and mitigate risk.
By having an agnostic approach, Fountainhead can design in what is best for you and your specific needs, workflow and operational requirements.
We will work with you to design your operating environment that is purpose built for 24/7/365 operations and optimized ergonomics and user comfort.
Our furniture solutions are designed to provide optimal viewing angles and countless additional considerations, to make sure your personnel are protected for years.
Fountainhead Control Rooms has the experience and resources to provide the most robust custom millwork solution on the market.
Mission Critical Turnkey Solutions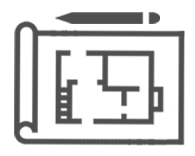 New control room build or retrofit, minor or major upgrade, our hyper-specialized team is ready and willing to engage at any level to protect your investment, maximize performance and mitigate risks within your environment.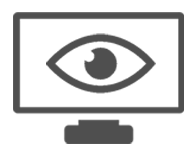 Mission-Critical Visualization and supporting Audio-Visual design and deployment are well suited to the Fountainhead Control Rooms whole-room solutions offering.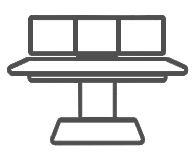 Balancing decades of experience, with the latest in leading-edge design, audio-visual, technical furniture and ergonomic technology, Fountainhead is your only choice for your command & control environment products.
The impossible becomes reality. Complications become simplified. Innovation adapted to every need. Movement. Modularity. Unique, original and brilliant solutions for breaking the mould and creating new parameters in any field.
Request a same day consultation by calling us at 404.990.3748 or click the link below.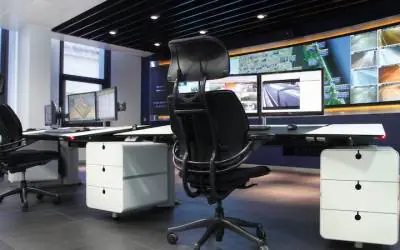 If customized control room furniture sounds like a luxury that's not in your budget, you haven't heard the truth. The truth is, you can't afford to settle for a run-of-the-mill setup and still have a control center that does what you need it to do. Think what you've...
read more
"Panasonic needed a turnkey solution for an Operation Center at a new facility. Fountainhead came through with flying colors. Jamie has surrounded himself with first-class people and uses the best technology available to deliver a truly world-class solution. Jamie was fully engaged throughout the process, adapting to multiple changes in scope and schedule, often on short notice, with the utmost professionalism. Jamie and his team far exceeded our expectations, and the end product is amazing. The Fountainhead team's level of service, attention to detail, customer engagement, and commitment to deliver is truly astounding. The solution Fountainhead delivered is well worth the investment and will be a centerpiece of our organization for years to come. We look forward to working with Jamie and Fountainhead again and can assure prospective customers that you will be more than satisfied with both their people and their solutions."
Brett Kahn
O&M Supervisor, Integrated Solutions at Panasonic
"Working with Jamie on a recent work project to provide 28 new consoles was an enjoyable experience. Jamie's work ethic and professionalism allowed the project to stay on target and reach completion on schedule. His dedication to details and organization of all aspects of the project helped us to have a beautiful functioning control room on schedule. It's my pleasure to recommend Jamie and Fountainhead Control Rooms, Inc. For their quality craftsmanship and professionalism."
Randall Hitchcock
Electrical Systems Engineer at Boeing
"It's obvious the first time you meet Jamie that he is extremely passionate about what he does. It shows not only in his personality but in the results of his work. We worked with Jamie on a recent re-design of one of our control rooms and the results we nothing less than spectacular. Do not pass up any opportunity you have to work with Jamie. You will not be disappointed."
Andrew Archer
Process Control Engineer at International Paper
"Jamie was an absolute dream to work with, extremely knowledgeable and provided a great perspective, really understood our business which gave him insight into solving our problems. Delivered on time and on budget which is all you can ask for."
Andre Christian
VP Network Strategy and IT at O3b Networks
"Jamie's expert knowledge and personable disposition makes him a pleasure to work with. His knowledge assures you'll get the right product, properly installed on time. He's detailed oriented, and customer focused, going above and beyond to make sure expectations are met. His passion for quality shows. He comes highly recommended."
Duane Caldwell
AVP – IT at Mizuho Securities Co., Ltd.
"Jamie has been excellent at focusing on the details of our project from conception through installation, making sure that the choices we made were well-informed and that quality workmanship was a key principle as we modernize our control room. He demonstrates great integrity, is very personable in all of our dealings, and has generated results that have created significant buzz all around our facility about the improvements in the control room. I fully intend to rely on Jamie for our future project needs."
Steve & Reece Stratton
Process Control Engineer at International Paper Company
"Jamie is an excellent person to work with. Very knowledgable on his work and pays great attention to detail and customer satisfaction."
Chris Nowack
Area Tech Mgr at PCA