Experience a Cutting-Edge Control Room Console Customized for Your Project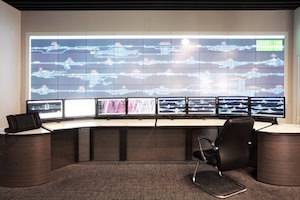 Any experienced control room staff member can tell you, there's a difference between a standard control room console and one that is customized to meet the specific needs of a mission-critical space. So, at Fountainhead Control Rooms, we are proud to provide our clients with the most technologically-advanced and visually-stunning consoles available on the market today. Even better, our consoles enhance efficiency and productivity in your control room.
Control Room Console - Fountainhead Control Rooms
At Fountainhead Control Rooms, we are proud to provide our clients with the most technologically-advanced and visually-stunning control room consoles available on the market today.
Review for Control Room Design
Written by:
Randall Hitchcock, Boeing
Date Published: 11/09/2017
Working with Jamie on a recent work project to provide 28 new consoles was an enjoyable experience. Jamie's work ethic and professionalism allowed the project to stay on target and reach completion on schedule. His dedication to details and organization of all aspects of the project helped us to have a beautiful functioning control room on schedule. It's my pleasure to recommend Jamie and Fountainhead Control Rooms, Inc. For their quality craftsmanship and professionalism.
Take a look at our wide range of console lines and customization capabilities. You will see that we have covered every budget and every environment. Most noteworthy, we make it our mission to help you do your mission better with innovative command center consoles.
The Fountainhead Control Room Console: A Step Up from the Rest
All console systems are NOT created equal. Hence, not all options available on the market feature design that meets the specific requirements of a continuous-use, mission-critical facility. At Fountainhead, we understand that at the core of any technical console furniture is the ISO 11064 control room design standard. Therefore, these standards and guidelines ensure that your workstation design, controls, and displays work together to create the basis of compliant control room consoles. 

All of our consoles begin with the foundation of ISO 11064 design specifications. Furthermore, you can trust your console will meet the needs and requirements of your facility. Other factors we consider in your design include:
First, your budget
Then, the equipment and technology (monitors, electrical and cabling, lighting, devices, and networks)
Next, the human factors (sight-lines, seating, egress, reach and stress)
Finally, your preference of materials and finishes
Our team of experts will work closely with you to determine what options are best for your particular application. Therefore, we can deliver the ideal custom or stock solution for your organization.
Learn More about Our Exclusive Command Center Console Lines Today
Ready to learn more about our custom control room design services or our exclusive line of premium control room workstations? Contact our team at Fountainhead Control Rooms today for your free consultation.