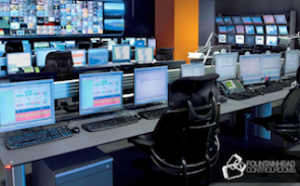 Control room markets aren't high on your priority list, but they are at the top of ours. No matter what type of control room your business needs, whether you're planning a new build or a retrofit, we'll give you exactly what you need, from design to completion.
Control Room Markets
Are you a nuclear power facility? Do you run a security firm? Are you in education or public safety? Is your business responsible for emergency responders? What about cybersecurity – is that your niche? No matter what market you're in, no matter the industry, we can take care of your control room build to meet all your specifications. We can even help you with the ones you didn't know you would need.
Our Specialized Team
Our Control Room Design Build Services team will take the time to collaborate with you. They want to understand the needs of your staff, what your workflow looks like, how you communicate and what your priorities are. With their extensive background in control room design and build, they can take that information and combine it with their knowledge of how operators interface with technology, their understanding of traffic patterns, and the importance of ergonomics in a control room environment. The result is an operational, functional, and scalable room to fit your business.
The Design and Build Process
There is a complexity in the way operators and technology interface, and no one understands that better than we do. We'll take you through the design and build process that includes:
Consultation
Needs and requirements review
Collaborative design development
Pre-planning
Project planning and coordination
Quality control
Logistics
Installation
Training
On-going support
Not only will our team work with you to build the control room you need to support your business, but we'll be there to support you once construction is complete, and in the future. We'll recommend potential upgrades, possible expansion specifics, and integration with existing infrastructure when the time comes that your business grows and your control room needs to grow with it.
Start Your Design-Build Process Now
You don't need to wait to get started. Same-day consultation means you can get the ball rolling now to get an innovative and effective control room solution. Contact our expert team at Fountainhead by calling 404-990-3748 or by getting in touch with us online now.